The magnetism of an effectively-crafted landing page can have an incredible impact on your company's ability to generate leads. While placing a heavy emphasis on your website's homepage is certainly important, landing pages are essential to your company's strategy as they provide a platform for converting targeted visitors into sales leads. From a functional standpoint, individual's driven to your landing page should receive a concise picture of what action you'd like them to take and why they should take it.
If you're wondering how to design a landing page that will maximize your conversion rate, here are some must-have elements to boost the efficacy of your landing page.
The Core Blueprint
In order to optimize your landing page, you'll need the following foundational items:
⦁ A compelling headline with a sub-header if needed.
⦁ A summary of your content offer – remember to keep it short & sweet.
⦁ At a minimum, the page should include one supporting image or video relevant to the page's overall objective.
⦁ A form designed to capture information from visitors. The form should include a call-to-action that prompts individuals to click through to the next step (i.e. download now!).
⦁ If desired, add credibility components such as testimonials, security badges, or logos of your customers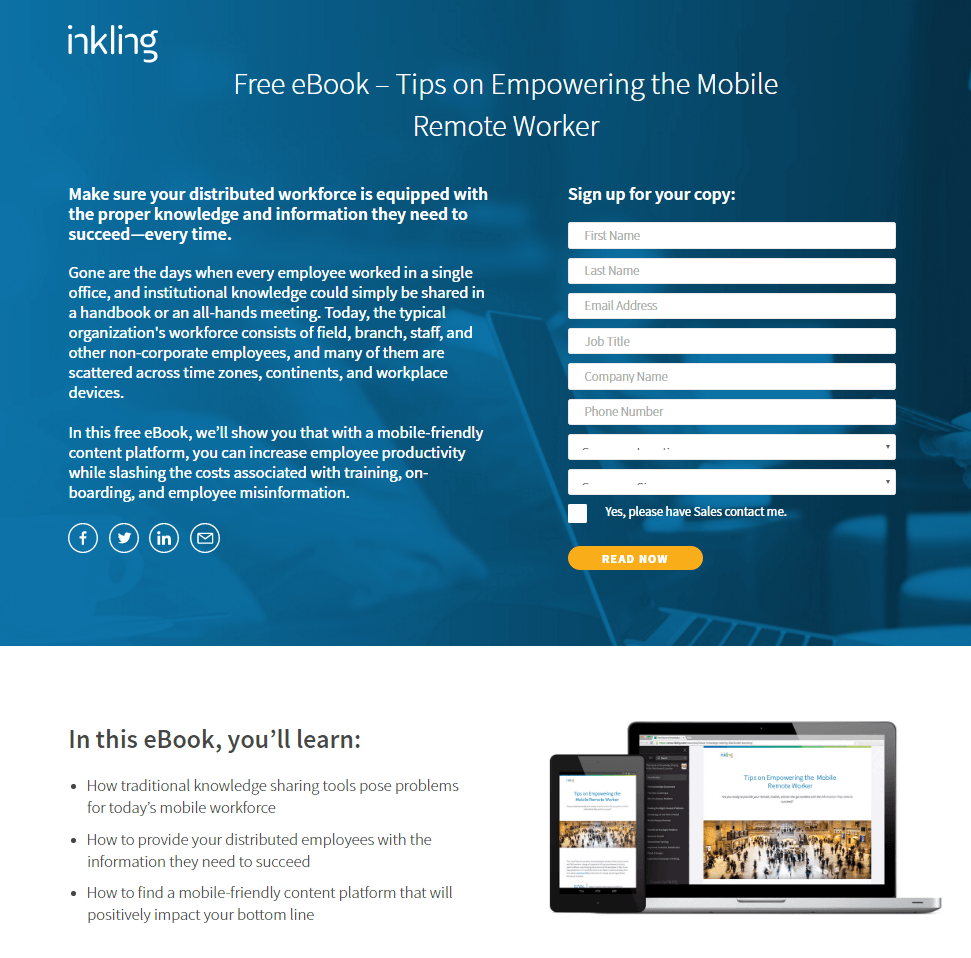 Inkling features a clear call to action describes exactly what you will learn in the eBook
Restrict Navigation to Bolster Engagement
The sole intent of a landing page is to persuade your audience to complete a certain action. If your landing page is teeming with clickable links and a throng of navigational items, visitors may become distracted and drift away from the main point of action on the page. In order to keep your audience focused on the task at hand, eliminate your website's main navigation bar.
Minimize Friction
Frictional components, like the inclusion of lengthy, complex text or distracting animation, can thwart a visitor's ability to take action. Additional elements, like lack of testimonials/proof of successful customer partnerships or no proper security badges, can detract from your audience's ability to trust your product or services. Simplicity is your friend here. Your message should remain consistent throughout the visitor's progression through the process.
IMPACT minimizes friction making it easier for a visitor to stay focused
An Undemanding Form Will Equate to Better Conversions
While there is no conventional outline of how many fields your form should include, it's best to only ask for information that's vital to the sales process. Your sales team can collect additional details when conducting their follow-up calls with the new leads. Additionally, requesting for the visitor to share confidential or sensitive information will discourage them from following through with the submission. Make sure your language mirrors the content offer and entices the visitor to take action. Phrases such as 'Join our Mailing List' or 'Get Your Free eGuide Now!' give the visitor clear direction on what step to take next.
Include Shareable Links
By making your landing page shareable, you are giving visitors the opportunity to distribute your valuable content to their network of friends and followers. Including social media widgets is an effortless way for visitors to become brand ambassadors for your business and drive new lead opportunities to your site.